Dr. E. Tanase
Name: Dr. I. Malik
Title: MD General practitioner
Specialism: General medicine
RMC-number: 418956
Education: GKT School of Medicine in London
LinkedIn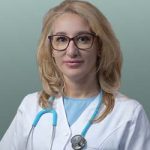 Introduction
This is doctor Elena Tanase. She is senior General practitioner and works on the ambulance with competence in prehospital emergencies, the main objective being qualified medical assistance in major medical and surgical emergencies as well as in the case of the polytraumatized patient.
Qualifications
In 2003, she completed her Bachelor's degree in Medicine from the University of Medicine and Pharmacy Victor Babes in Timisoara and became a senior qualified general practitioner. In order to be able to work on the ambulance, she completed the competence in prehospital emergencies in 2011. In addition, she has over 15 years of experience dealing with emergencies of all kind.
Experience
After graduating and specialising in emergency medicine, Dr E. Tanase started working in the UK as a doctor in a private surgical hospital as an on-call doctor. In order to work here, she gaind her UK registration in GMC and worked as full registered doctor for 2 and a half years. She also completed resuscitation courses for adults and children (ATLS and PLS) and another required courses and modules about duty of care, infection prevention, child neglect, child protection, Urinary tract infection in infants and children, chronic heart failure, how to diagnose pulmonary embolism, management of chronic asthma in children and adult, diabetes in pregnant woman, assessing pain and analgesia, communication skills and handling information, etc. She is now back in Romania and working as a senior GP in prehospital emergencies in the County Ambulance Service.
Specialism
In the past few years, she has followed additional training in Advanced Life Support Course, European Paediatric Life Support Course, Medical Examiner of Divers, Cosmetic Courses, PHTLS( vital trauma support in pre-hospital accredited by NAEMT).
Cooperation
To the question why Dr E. Tanase works with Dokteronline she said:
"Online medicine was a challenge for me. I started with online consultations, then prescribed medication based on well-developed questionnaires, I feel that in this way I can help patients more quickly and efficiently, thus ensuring quick access to treatment and medical support if needed.
According to all the doctors, the online way of working is the most advantageous, because once you have gained practical experience in the field over 15 years in emergency medicine, you can share all this experience with online patients who request help with various problems. medical problems faced by each individual as well as younger colleagues."