Test O. Avram
Name: Dr. I. Malik
Title: MD General practitioner
Specialism: General medicine
RMC-number: 418956
Education: GKT School of Medicine in London
LinkedIn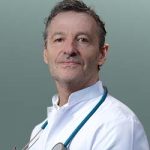 Introduction
Meet doctor Oana-Raluca Avram. She is an MD General practitioner and specialized in enhancing and restoring functional ability and quality of life to those with physical impairments or disabilities affecting the brain, spinal cord, nerves, bones, joints, ligaments, muscles and tendons.
Qualifications
She obtained her bachelor's degree in General Medicine in 2005 from the Victor Babes University of Medicine and Pharmacy in Timisoara, Romania. She also finished her residency in Physical Medicine and Rehabilitation in 2012 in Timisoara, Romania.
Experience
In 2006, she started working as a primary care doctor at Municipal Hospital Timisoara. This is where she worked till 2012. Alongside working as a primary care doctor, she taught a course in medical genetics and rehabilitation sciences for the Health Sciences program at the university where she graduated in 2005.
She worked at Milimed as a senior doctor from 2013 to 2018. From 2018 to the present, she has been a senior doctor at RAL-CLAU MEDICALS. In addition, she has also been working at Timisoara County Hospital since 2021.
Specialism
Dr O.R. Avram is specialized in muscle, tendon, joints and ligaments disorders. And she wants to further specialize in physical and rehabilitation medicine.
Cooperation
To the question why Dr E. Tanase works with Dokteronline she said:
"I started to work at Dokteronline in 2017 when online medicine was a whole new chapter for me and for patients too. It was a new way to practice medicine worldwide and an interesting one too. I realized in my practice as a medical doctor that people with medical problems need a quick access to an adequate treatment and that's why I've decided that Dokteronline is the way. Now, after the Covid period, online medicine is a fact. I love being a part of Dokteronline team."