Amoxicillin Without a Prescription
Are you suffering from bronchitis, chlamydia, a bladder infection or some other bacterial infection? Amoxicillin will relieve your symptoms quickly. This antibiotic is prescribed by a medical professional. Is your GP on vacation or is it difficult for you to stop by the doctor's office? Don't worry, you can also order Amoxicillin without a prescription from dokteronline.com. One of our affiliated doctors can provide you with a prescription after an online consultation. This way, you won't be taking medicine without medical supervision.
Prescription medicine
Taking medicine on your own can be dangerous. Amoxicillin is a powerful antibiotic that can be potentially dangerous to your health if not administered in the correct dosage. What's more, it interacts with other medicines. Only an experienced doctor knows when it is safe to use Amoxicillin and can determine the best length of treatment. That is why you should never buy Amoxicillin without a doctor's prescription – whether from your own GP or a registered doctor affiliated with an online pharmacy or webshop.
Treatment with Amoxicillin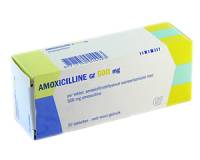 Counterfeit medicines
You have no doubt heard about counterfeit medicines: pills that look like the original ones, but contain different ingredients. There is a large trade in counterfeit pills on the Internet, with potentially dramatic consequences. Fake Amoxicillin can be life-threateningly dangerous. Factories that produce counterfeit medicines can put in too much or too little of the active ingredients, or none at all. Many counterfeit medicines contain contaminated or even toxic ingredients, as we know from batches that are being seized on a regular basis. It can be difficult to recognise counterfeit medicines. You might not even know when you have been given a fake medicine – they often look exactly like the real thing. There are, however, a few things you can do to steer clear of illegal drug sellers.
Tips for safe shopping online
If you do not want to run the risk of being sold fake medicines, then stay away from rogue websites. Here are a few tips to help you spot a rogue website:
Do not buy Amoxicillin without a prescription from a GP or online doctor;
Avoid anonymous websites. Check if the seller has accessible customer service and whether contact details are posted on the website.
Look at the website: does it offer enough information on the medicines in its product range?
Does the website have a secure payment environment?
Avoid online pharmacies that are not registered in the EU. Asia accounts for the biggest share of the trade in counterfeit medicines!
Buying Amoxicillin safely without a prescription
At dokteronline.com, you can buy Amoxicillin without a prescription from your GP. During an online consultation, one of our independent affiliated doctors assesses your medical history. Once the order is approved and a prescription issued, your medicine is dispensed by a registered European pharmacy. Go to our order process page for details on how to order Amoxicillin. You can also contact our customer service with any additional questions you may have. Our website also provides a wealth of information about the medicines in our product range. For your convenience, we have made the Amoxicillin package leaflet and information brochure with customer experiences available for online viewing. This will give you a good idea of how Amoxicillin works.