Doxycycline without prescription
Doxycycline is one of the most widely-used antibiotics, since it has a broad spectrum of action, making it active against a wide variety of bacteria that cause a host of different infections. Doxycycline is prescribed by doctors, amongst other things, for bladder, sinus, gastrointestinal and skin infections and STDs. Antibiotics require a prescription, even online, which means that if you want to order this medicine, you need the written permission of a doctor. Dokteronline.com works with independent doctors who provide online consultations and issue online prescriptions, enabling you to order doxycycline without a prescription from your GP.
Why do you need a prescription?
Prescription medicines are stronger than over-the-counter treatments and can cause serious damage to health if used incorrectly or unnecessarily. A doctor can evaluate if a medicine is safe for you, and if so, what strength and dosage you need for your condition. A prescription is only issued if the doctor feels that it is appropriate. In Europe, doxycycline cannot be sold without a prescription, along the same lines as antipsychotics, erectile dysfunction medications and other controlled substances. Nevertheless, there are online pharmacies that do not ask consumers for prescriptions when dispensing or distributing medicines. Do not buy these illegal medicines as they may not be safe!
Treatment with Doxycycline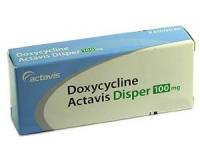 View treatment option with Doxycycline
Go to treatment
Fake doxycycline
Beware of web shops that sell doxycycline without a prescription or online consultation, as these are most likely operating illegally, and the medicines they are dispensing are often counterfeit, contaminated and dangerous. The bad news is there are many disreputable suppliers who sell these substances purely for profit and do not care about your health.
Here are some tips to help you steer clear of such companies:
Online pharmacies and web shops that are not registered in Europe have bad reputations in terms of counterfeit medicines. Make sure you buy your medicine from a European company;
Check whether the web shop has customer service that is easily accessible;
Do not respond to offers for doxycycline through unsolicited (spam) e-mails.
Order doxycycline online safely without a prescription
Of course, not all online pharmacies are fakes that operate on the black market. Indeed, there are plenty of companies that can be trusted. Dokteronline.com has provided valued intermediary services between doctors, pharmacies and customers for more than 10 years. All orders are assessed by certified doctors during an online consultation. Furthermore, our affiliated pharmacies only dispense original and approved medications. At Dokteronline.com, you can shop for doxycycline online with the assurance of safety.
Short-term relief with doxycycline
Would you like to buy doxycycline online without a prescription from your GP? At dokteronline.com we will make sure your order is processed promptly, which is important because bacterial infections should be treated with antibiotics as soon as possible to reduce the chance of complications. If you order doxycycline online today, your medicine will be delivered to you within one to three working days. On our order process page, you can find information on how to order, which you can read at your own leisure. If you have any questions after reading this information, our customer service will be happy to help you.