Experiences with Emla Cream
Emla cream contains lidocaine and prilocaine, two local anaesthetics that are used to temporarily numb the skin. It is therefore commonly used in health centres, hospitals and tattoo shops. Emla cream can also be used for premature ejaculation, a condition in which a man ejaculates before he wishes to or after little sexual stimulation. Premature ejaculation can lead to feelings of frustration, insecurity and even relationship stress. Emla cream can prevent premature ejaculation and has helped many men overcome their disappointments in the bedroom.
Emla cream reviews
Dokteronline.com receives regular reviews from users about Emla cream. Below you can read a review from one of our customers.
Brody:
I just wanted to say that I have tried virtually every product on the market to stop ejaculating too quickly, but nothing seemed to work. Until I ordered Emla cream. I have finally found a product that actually works and has more or less cured the problem! The only downside is that you have to keep using it. But hey, I can live with that. The main thing is that it works.
You can find more user experiences on our product page. If you would like to share your experience with Emla cream too, then write a review!
Treatment with Emla cream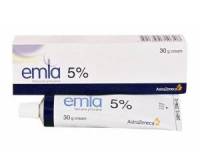 View treatment option with Emla cream
Go to treatment
The benefits of Emla cream
The majority of users have positive experiences with Emla cream. Male customers who have used this product to delay ejaculation are very satisfied. One of the main advantages of the cream is dosing flexibility: you can apply as little or as much as you like. After all, not all penises are equally sensitive. By adjusting the amount of cream it is easy to achieve the desired level of anaesthetic effect. Other advantages that users of Emla cream have reported include the limited number of side effects and the fact that it takes a very short time to take effect.
How to use Emla cream
Emla cream is very easy to use. The following tips will help you get the most out of the product:
Apply the cream right before lovemaking. Allow 5 to 15 minutes for it to be absorbed into the skin. This will prevent that your partner's genitals are also numbed;
Apply as little as possible to begin with. You can always increase the dose under supervision of a doctor;
Wash hands thoroughly after applying the cream to avoid contact with the eyes;
Do not apply the cream to broken skin.
For more information about Emla cream, please visit our product page. If you would like to share your experience with Emla cream too, we welcome you to write a review.