Emla cream without prescription
At Dokteronline you can buy Emla cream without a prescription! Emla cream is a prescription-only medicine, which means that you therefore need a prescription to buy it. However, it does not have to be a prescription from your GP. You can also order Emla cream online with an online prescription from a registered doctor. If your order request is approved after a thorough online consultation, a prescription will be issued. Dokteronline's online consultation service allows you to buy prescription medications online without seeing your GP. This not only saves time but is also a convenient, safe and discreet way to shop for medicine.
What is Emla cream?
Emla cream contains lidocaine and prilocaine, two local anaesthetics that are used to temporarily numb the skin. It has been used for years to desensitise the skin and mucous membranes.
Emla cream can be used for:
Temporarily numbing the surface of the skin before procedures such as injections, stitches or minor surgical treatment such as the removal of warts;
Pain and itching caused by eczema or other skin conditions;
Premature ejaculation (coming too quickly): Emla cream works by desensitising the penis and glans, enabling men to last longer during sex.
At dokteronline, you can buy Emla cream without a prescription from your GP.
Treatment with Emla cream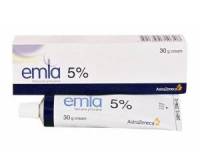 View treatment option with Emla cream
Go to treatment
Online prescriptions from Dokteronline
If you do not have the time to see your regular doctor, you can order Emla cream online at dokteronline without going to your GP or pharmacy. We work with affiliated doctors who can issue a prescription online. The process works as follows:
Select the medicine you want to order;
Create an account or log into your existing account;
Fill in the medical questionnaire;
Check and pay for your order.
After you have placed your order, the doctor will review your medical consultation and issue a prescription if they decide that it is safe to do so. The order will be packed and shipped directly, and delivered to you within one to three days.
Topical anaesthetics at Dokteronline
Topical anaesthetics are indispensable for minor medical procedures (injections, taking blood and minor skin surgery) and are used to numb the skin and reduce pain. They are also used to stop premature ejaculation. Dokteronline offers the following topical anaesthetics:
Lidocaine cream:
This product contains lidocaine, a medicine that works by blocking the pathway of pain signals along the nerves, inhibiting them from reaching the brain.
Ultraproct:
An ointment with an active ingredient and local anaesthetic called cinchocaine. This product is also used to treat haemorrhoids.
Anugesic cream:
This contains a local anaesthetic called pramocaine and hydrocortisone. It can be used to reduce inflammation of the skin.
Topical anaesthetics, including the above-mentioned creams, require a prescription. At dokteronline, you do not need a prescription from your GP: a registered doctor can issue an online prescription after an online consultation.
Order Emla cream without a prescription
If you need an analgesic cream and do not have the time or desire to visit your doctor, go to dokteronline where you can buy Emla cream and other topical anaesthetics without a prescription from your GP, but instead with an online prescription and online doctor's consultation.