Sildenafil without prescription
Men who suffer from erectile dysfunction (ED) can go to their doctor for Sildenafil, but what if talking to your GP is too daunting? Can you buy Sildenafil on the Internet without a prescription? The answer is yes, you can. ED pills are also available online, and while you do need a prescription for them, in this case a doctor other than your GP issues the prescription. This is called an online prescription.
Why do you need an online prescription?
Sildenafil is a strong medicine which must be used cautiously, and a doctor has to determine whether or not it is safe for you to take it, which cannot be done without a consultation. Dokteronline.com provides an online consultation service which allows a doctor to review your health and medical history based on a medical questionnaire that you are requested to fill in on our website. If the doctor considers the use of Sildenafil safe and appropriate, a prescription will be issued and your medicine can be shipped.
Treatment with Sildenafil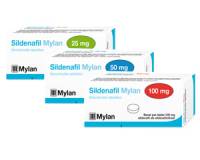 View treatment option with Sildenafil
Go to treatment
Why does Sildenafil require a prescription?
Sildenafil is one of the best-known treatments for ED. It temporarily relieves erection problems and improves blood circulation, allowing the penis to get hard and function for sex. Sildenafil can cause side effects such as dizziness and effects on the vision (see the package leaflet). In addition, Sildenafil may interact with some medicines and should not be used by men who have certain health problems. Never take Sildenafil on your own, as it could be dangerous. For this reason, Sildenafil is not available without a prescription in this country.
Counterfeit Sildenafil without a prescription
Unfortunately, the Internet is a place where criminals lurk, seeking opportunity. You can easily find web shops where you can buy Sildenafil without a prescription or online consultation. Do not respond to these offers, as Sildenafil that is not prescribed by a doctor is fake! Counterfeit medicines are not inspected by regulatory authorities which means that anything could be in such pills. Most of the Sildenafil that is sold online is fake and contains contaminated substances, far less of the active ingredient than the genuine article, or a completely different active ingredient. In short, these pills can make you very ill.
Avoid scams
If you wish to buy Sildenafil safely online, make sure you get a prescription from a doctor who reviews your history and symptoms and can decide which dose is best for you on the basis of this information. More tips for shopping safely online:
Buy Sildenafil from an online pharmacy that is registered in Europe;
Do not respond to offers for ED products through unsolicited (spam) e-mails;
Avoid companies that do not have accessible customer service or websites without contact information.
Order Sildenafil safely
Dokteronline.com is well aware that there is nothing more important than your health, which is why we have been working with the best doctors in various fields for more than 10 years. If you want to order Sildenafil safely without a prescription from your GP, you can order from us with confidence. We only provide this medicine if one of our affiliated doctors is sure that it is safe. Furthermore, our partner pharmacies only dispense original and approved Sildenafil. With us, you do not have to worry about counterfeit medicines. Should you have any questions about Sildenafil or the order process, our customer service is here to help.