Tretinoin without prescription
Tretinoin, or Vitamin A acid, is used to treat people with damaged or impure skin. Cream or lotion with tretinoin is typically prescribed for severe cases of acne, a skin condition that manifests itself through pimples, blackheads and subcutaneous infections. In addition, Tretinoin is commonly used to treat rosacea, patches and wrinkles due to excessive exposure to UV light, striae and pigmented areas. Tretinoin is only available on prescription. Is your GP on vacation or is it difficult for you to stop by the doctor's office? At dokteronline.com you can buy Tretinoin without a prescription from your GP. One of our affiliated doctors will be happy to issue a prescription.
Flawless skin with Tretinoin
Vitamin A acidic stimulates cell division. It has a peeling action on the skin and works by removing the damaged outer layer of the skin so that new, smoother skin comes to the surface. Tretinoin reduces patches and wrinkles, opens clogged pores and heals infected skin. Be careful: Tretinoin is a powerful acne treatment medication that should not be used by just anybody. In some situations, such as pregnancy, this medicine can even be dangerous. That is why Tretinoin should not be used without consulting a doctor. For this reason, it is not possible to buy Tretinoin or Vitamin A acid in this country without a prescription.
Treatment with Tretinoin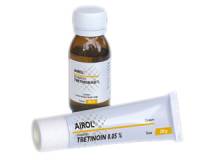 View treatment option with Tretinoin
Go to treatment
Do not buy Tretinoin or Vitamin A acid without a prescription
If you choose to shop online, beware of fake Tretinoin. Unfortunately, medicines that you buy online are not always safe. They can contain cheap or even toxic substances or too much or too little of the active ingredient, making them ineffective and possibly dangerous. Rule number one when shopping online: do not buy Tretinoin without a prescription. Only a doctor is able to prescribe this medicine safely. Another golden rule: always buy medicine from a registered European pharmacy. Other continents have less stringent laws and regulations, which makes it easier to manufacture and export counterfeit medicines. More red flags to look out for: a trustworthy webshop has accessible customer service with telephone and e-mail support. If it doesn't, do not shop there.
Important information on Tretinoin
Tretinoin is not a harmless medicine. It should be applied to the skin very carefully to avoid side effects. At dokteronline.com, we see it as our responsibility to provide as much information as possible on the products that our customers order. The package leaflet provides important information on safety and proper use. Another source of information is our information brochures. In the brochure Experiences with Tretinoin, for example, you can read what other customers think about this medicine. And if you have any further questions after reading this information, our customer service is ready to assist you.
Easy and quick: buy Tretinoin without a prescription
Have you been seeing patchy or spotty skin in the mirror lately? Fed up with your wrinkles, fine lines and crow's feet? Then Tretinoin may be the answer. Tretinoin is available in cream and lotion form. At dokteronline.com, buying Tretinoin (Vitamin A acid) without a prescription from your GP is as easy as one, two, three. The online consultation will take a matter of minutes, and payment is handled quickly and safely through one of our secure payment options. Order Tretinoin today via an online consultation and we will make sure your medicine is delivered to your home within one to three working days.