Azithromycin without prescription
Azithromycin is an antibiotic that is used to treat various bacterial infections. A bacterial infection can be very unsettling. Besides common symptoms such as pain and fever, bacterial infections can also be accompanied by specific symptoms such as an increased urge to urinate (bladder infection), coughing and shortness of breath (sinus infection) or diarrhoea (gastroenteritis). For more information on how this medicine works, please read the package leaflet. Azithromycin tablets should be prescribed by a doctor if you order this antibiotic online. However, you can buy Azithromycin without a prescription after an online consultation via dokteronline.com.
How does an online consultation work?
If you visit a doctor's surgery for a prescription, your GP will ask you several questions before giving you a prescription. An online consultation works in the same way – the only difference is that you answer the questions via a medical questionnaire on our website. A doctor affiliated with Dokteronline.com then reviews the consultation answers to evaluate your order. If the ordered medicine can be used safely, the doctor will issue an online prescription. This prescription is forwarded directly to a partner pharmacy where your medicine is packed and shipped.
Treatment with Azithromycin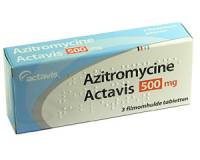 Is a prescription for Azithromycin necessary?
Many people ask if a prescription for this medication is necessary. After all, some websites sell Azithromycin without a prescription or online consultation. We wish to be clear on this – if you can buy Azithromycin without an online prescription or a prescription from your GP, you are getting counterfeit medicine. The sale of counterfeit medicine is, unfortunately, a growing global problem. About 90% of these replica medications are sold over the Internet. This means that you should be very careful when shopping online. Fake Azithromycin will not make you better and it can be very harmful.
Why are counterfeit medicines dangerous?
Counterfeit medicines are produced all over the world, although the largest percentage of the output is concentrated in Asia. Fake medications are often produced using cheap, dangerous ingredients under conditions that are far from hygienic.
Unfortunately, it is very difficult to identify which medicines are fake and which are genuine as they look exactly the same. However, you may be able to recognise rogue websites that sell potentially dangerous medicines. These often sell Azithromycin at low prices and without a prescription. Alarm bells should ring if, in addition, they also do not offer an online consultation. We recommend you only buy from a European pharmacy that works with registered doctors.
Buying Azithromycin without a prescription
If you want to buy Azithromycin without a prescription from your GP, you need to do your homework. Which pharmacy can be trusted? Does it work with registered doctors? Dokteronline.com can give you confidence when buying Azithromycin or other medications online. We have been working with the best independent doctors in the field for more than 10 years. In addition, our affiliated pharmacies are all registered in Europe. All you have to do is place your order for Azithromycin on our website, fill in the medical questionnaire and we will take care of the rest. On our order process page, you can find information on how to order Azithromycin without a prescription which you can read at your leisure. Of course, our customer service team will also be happy to answer any questions you might have.